Open thread, 9/10, Braves vs. Charlie Crists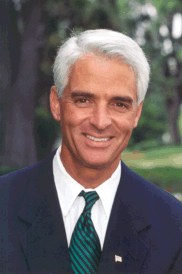 UPDATE: Good news on the injury front — Reed Johnson has been activated off the DL and Jordan Walden is expected to be available on Thursday. And Jay Hey is on schedule  to get some AB's in the Instructional League. 
No flip-flopping on the line-up tonight from Fredi, a la Florida's closeted former Republican governor turned closeted Democratic candidate for governor. I like the stability — more specifically, I like the absence of BJ and Uggla.
1. Schafer CF 2. J Upton RF 3 Freeman 1B 4. Gattis LF 5. McCann C 6. C. Johnson 3B 7. Simmons SS 8. E. Johnson 2B 9 Teheran p
It'll be interesting to see if Julio benefits from the extra rest. I wouldn't mind seeing him skipped over one more time, because, of all the Braves hurlers, he's the most likely to dominate.