Open thread, 8/10, Braves vs. the Gallaghers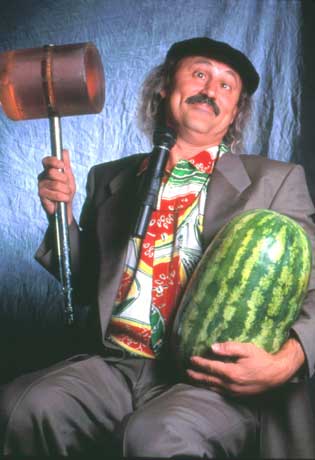 Would it surprise you to learn that melon-smashing "comic" Gallagher hails from northern Florida? Didn't think so. (I conducted a memorable interview with Gallagher about 10 years ago. He is not a pleasant man.)
All smiles on the Braves front as they attempt to tie their biggest winning streak since moving south. CD and I were at the game last night and when I got home I turned on ESPN expecting to see Braves highlights leading the show. How silly of me — there were NFL exhibition games to dissect, with analysis from humorless turd Mark Schelreth. Sometimes I fucking hate the NFL.
Brandon Beachy deserved top billing last night, coasting through 8 innings without breaking a sweat. Granted, the Marlins line-up doesn't offer much challenge, but Beachy's dominance was just the latest positive sign for a team that now boasts baseball's best record.
The bench gets a boost tonight, with Schafer coming up and Constanza going down. Laird will be back Sunday.
McCann gets the night off due to sore knees but DOB says it's not a concern. The line-up:
Heyward 9, JUpton 7, Freeman 3, Gattis 2, CJohnson 5, Uggla 4, BUpton 8, Simmons 6, Wood 1